Become an Owner

Open a CrossFit Gym

From an idea to opening day, we'll help you every step of the way with checklists, coaching and programming resources, business advice, and tips from successful CrossFit gym owners around the world.

Start Planning

Start-up Costs

Check out our Start-up Costs worksheet to see what you need to open your dream gym.

CrossFit HQ Resources

CrossFit Affiliate Programming

Check out everything CAP has to offer.
With over 13,000 CrossFit affiliates worldwide, we have a community of small business owners who have built their dream businesses. Once you make your down payment, you'll get access to the Affiliate Starter Kit, the Affiliate Partner Network, and more!
Access to all resources in the Affiliate Toolkit.

Discounts on flooring, cleaning supplies, software, and more to reduce the cost of opening and maintaining a gym.

Guidance to create a business plan so you know how much capital you need, how much revenue you can expect, and the strategy you'll need to implement to grow.

Critical tips on choosing a location that will contribute to the long-term success of your gym

Facility design tips that reduce expenses and safely increase class sizes.

How to build a marketing plan that will keep people walking through your doors and convert to paying members.

Sales skills and processes you'll need to build a thriving (and profitable) community.

Checklists for hiring and developing your staff.

Financial planning to avoid the most common and costly mistakes.
Your down payment is applied toward your first year's affiliation fee!
What's included in my down payment?
CrossFit empowers people to become business owners. Nowhere else in the fitness industry is the cost to start a brand-recognized gym so low. We do this so CrossFit can be part of the movement that changes people's lives through fitness. The annual affiliation fee is US$3,000. For your first year, we'll deduct the $500 down payment from this amount.
Our support doesn't end when you make your deposit. You'll have access to the Affiliate Toolkit and other resources for six months, including:
Owning a CrossFit affiliate has given me the chance to work with a wide variety of people with a wide variety of goals. Prior to CrossFit, I coached people who always seemed to have the same goals, and we used the same methods to help them reach their goals without ever really making a lasting change. With CrossFit, we can help people move better and find a sustainable way for them to improve their health and fitness while having fun at the same time. We pride ourselves on having coaches that genuinely care about the progress of our members and CrossFit has given us the opportunity to belong to a global community that fosters the same level of care

Jon Colborn, CrossFit Omnia, Denver, Colorado
Opening a CrossFit affiliate has allowed me to positively impact people's lives by promoting fitness and health, creating a community around a shared passion and building a successful business with meaningful career opportunities for others who want to do the same. Additionally, my CrossFit affiliate enabled me to successfully transition out of the confines of the corporate world into an entrepreneurial environment where success is directly correlated to effort. I'm helping others, spending more time with my family, and pursuing my passion.

Craig Howard , CrossFit Diablo, Walnut Creek, California
Early on, we realized exactly how powerful a tool for positive change CrossFit could be. We fell in love with the method, the ethos, and the global community, and wanted to create a space in which we could deliver an authentic representation of CrossFit to the people in our city. CrossFit's emphasis on quality coaching changed the way that we viewed sport, training, and the fitness industry as a whole. We are proud to have been a driving force for bringing CrossFit to Scotland and the U.K.

Gavin Heselton and Iain Barbour, CrossFit Glasgow, Glasgow, Scotland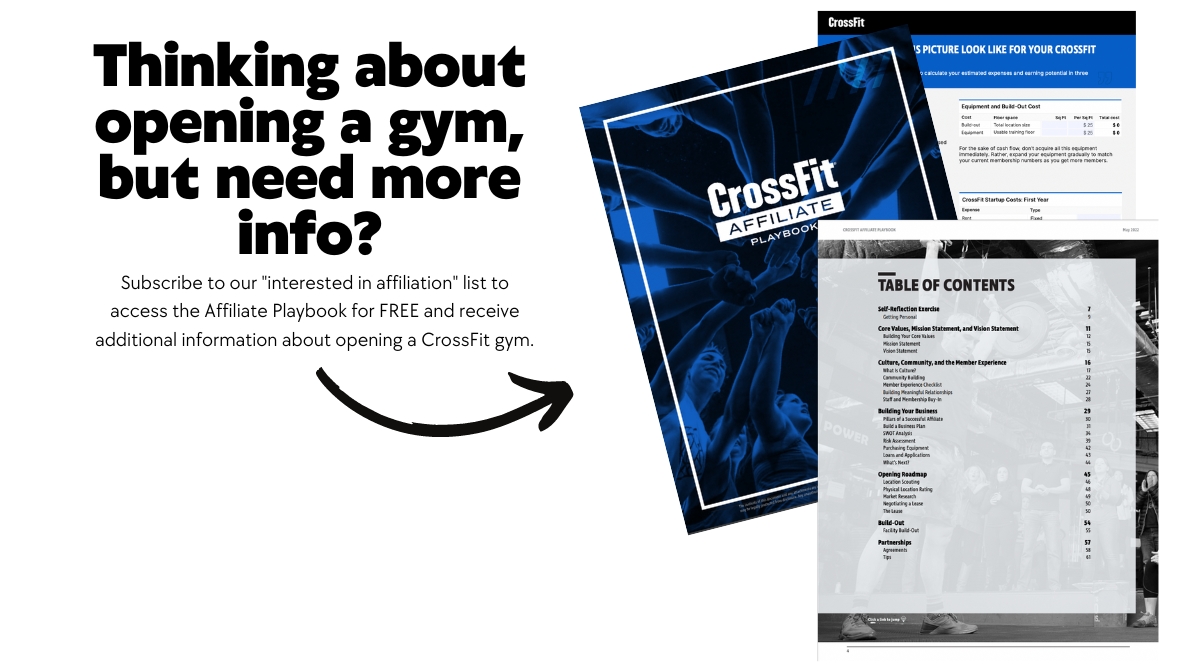 GET THE AFFILIATE PLAYBOOK TODAY!
Enter your email to get a FREE Playbook. Multiple languages available.
See What Your Start-Up Costs Would Be
I've been an operational affiliate owner for a little over three years now and started the Global Mentorship Program a little over two months ago. I'm really happy with the level of personalization I've received from both my business and coach mentors. Oftentimes as an affiliate owner, you really feel like you are on your own chasing after a million shiny objects. It can be distracting and pull you away from the most important tasks. For me, having someone to report to each week has given me the accountability I need to follow through with my weekly homework given by my mentors.

Alex Rolfs, BP CrossFit, Plover, Wisconsin
The mentorship (program) has been absolutely invaluable! Prior to the program, we truly felt lost and that we needed help. We are so glad that we had the opportunity to join the program.

Steven Hicks , CrossFit Reinforce, Orlando, Florida
FAQs
Yes! We refer to our gyms as affiliates because we are not a franchise.

No. Our affiliates are a community of legitimate fitness practitioners pooling reliable sources. Each affiliate is independently owned and operated.

You have six months to complete your affiliate application from the time of your $500 USD down payment. If you need more time, please reach out to affiliatesupport@crossfit.com.

As of Jan. 1, 2011, affiliation costs US$3,000 annually.

You may choose to pay your affiliate fee on a monthly payment plan. If you choose the monthly plan, the fee is an additional 20%.

You will be able to start your application in the Affiliate Toolkit. This is the same place you will access your Affiliate Starter Kit!

Yes, you must make a down payment before you can apply. You may start your application as soon as you have made your down payment.

If you plan on opening one of the following types of affiliates, please reach out to affiliatesupport@crossfit.com.

Military
Nonprofit
School
University
LEO/Fire
More FAQs
Small Businesses, Profound Results
No gimmicks — just effective fitness, knowledgeable coaches, and a community that cares.