Welcome to the CrossFit Health Book Club. Each month, we will announce the title of a book based on a health topic we will cover through articles, social-media posts, IG lives, and webinars. The book for October 2022 is "The Art and Science of Low Carbohydrate Performance ." We would love for you to read along with us and provide feedback and questions for our webinar in the comments below.
Publisher's Description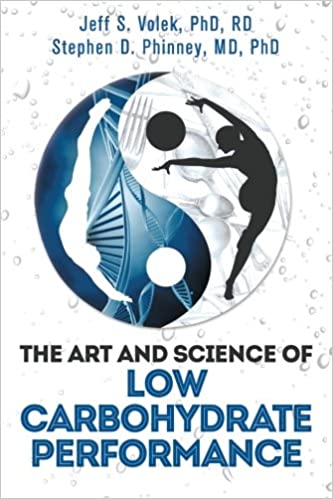 A revolutionary program to extend your physical and mental performance envelope.
Our recent book "The Art and Science of Low Carbohydrate Living" was written for healthcare professionals, championing the benefits of carbohydrate restriction to manage insulin resistance, metabolic syndrome, and type-2 diabetes.
In response, our athlete friends asked "What about us?"
This companion book is our answer, and it could be titled: "The Art and Science of Avoiding the BONK." But actually, it is much much more than that. The keto-adapted athlete benefits from superior fuel flow not only when nearing glycogen depletion, but also during training, recovery, and in response to resistance exercise as well.
About the Author
Jeff Volek is the Chief Science Officer and Co-Founder of Virta Health. For more than 20 years, Dr. Volek has performed research on the clinical and performance applications of low-carbohydrate diets. He has more than 300 peer-reviewed scientific manuscripts and five books.
He is a 15-year dietitian-scientist studying how diet and exercise affect health and performance. He received his dietetic training at Michigan State University and Penrose St Francis Hospital and his PhD in Exercise Physiology from Penn State University. Dr.
Volek practically applies his own research. He is a former athlete and competitive powerlifter, and follows the principles of a low carbohydrate diet to his own athletic performance and health.
Dr. Volek has a Bachelor of Science in dietetics from Michigan State University, and a Master of Science in exercise physiology and Doctorate in kinesiology and nutrition from Pennsylvania State University.
Stephen Phinney is the Chief Innovation Officer and Co-Founder of Virta Health. He is a 40-year physician-scientist, studying nutritional biochemistry with a focus on low-carbohydrate diets and their influence on performance and health.
His clinical experience includes inpatient and outpatient counseling on nutrition, weight management, while also designing, completing and publishing data from over 20 clinical trials. He has over 87 peer-reviewed papers and book chapters published on nutrition and biochemistry.
Dr. Phinney received his medical degree from Stanford University, holds a Doctorate in nutritional biochemistry and metabolism from the Massachusetts Institute of Technology and completed post-doctoral research at Harvard University.