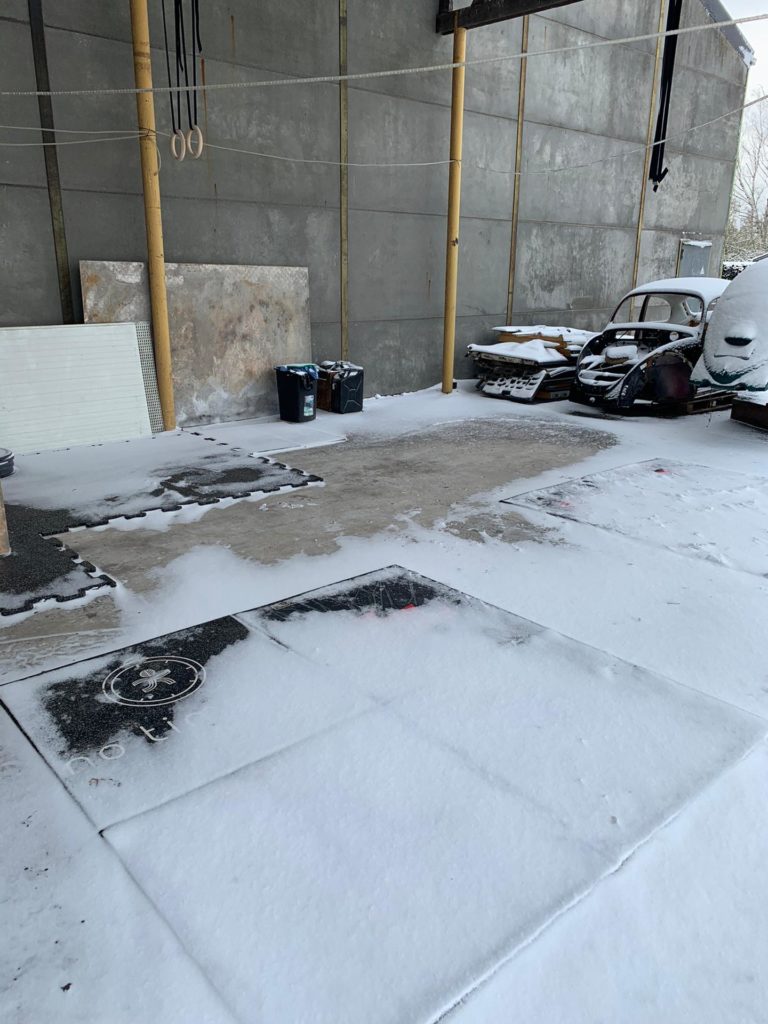 Imagine for a moment that you're getting ready to go to the gym for a workout. You've been trying to keep up with your fitness on your own for the last three months, stretching your tired back after hours curled over your computer, forging iron-clad willpower in the fires of temptation as you limit snack intake during hours of Netflix binging, and quieting that inner voice when it tells you, "Why get sweaty and uncomfortable when the oh-so-cozy couch is right there?"
Today — at last — you have the chance to go to the gym to work out with other people again. People who aren't just glossy flattened moving pictures on a screen. Real people, in 3-D!
You put on your favorite pants and T-shirt, pull a hoodie over your elegantly disheveled lockdown hair, pull your shoes out of retirement, then put on a coat … and some gloves, and a hat, and maybe a thicker coat on top of that. Why, you ask? Because it's the middle of winter, and this workout is going to happen outside.
Do you turn back, strip the layers, don the robe and slippers you've been living in since June, and forego the whole affair?
No! You're dedicated and in desperate need of a change in your routine, so you walk out of your house looking more than a little like Ralphie's brother Randy in "A Christmas Story" after his overly worried mother gets ahold of him, and you head to the gym for a little fitness with friends.
This may sound like it has all the makings of a Bob Clark classic, but this is exactly what's happening at CrossFit Endgame in Lochristi, Belgium.
Hard Work and Creativity
OK, the actual athletes at Endgame are a little more stoic about the cold than the athlete in the imaginary scenario described above.
Jasper Vanhoutte, who opened the affiliate in partnership with Thibault Poulet in December, once expressed his surprise at the fortitude of his members who came to work out as the Belgian winter air plummeted to single-digit temperatures.
"It's crazy that you guys are here," he recalled saying, but they assured him, "We just throw on some gloves and throw on an extra sweater, and after the first 10 minutes of the warm-up, it's OK actually."
In fact, Vanhoutte has had a hard time wrapping his head around the enthusiasm of his growing clientele. A former coach at another gym in Belgium, Vanhoutte initially reacted with a bit of skepticism when Poulet approached him about opening his own business.
"I was thinking people were going to be a lot more cautious. They're not gonna be willing to start something new right now," he said. "But apparently I was wrong — in a good way."
"We started with zero members," Vanhoutte said. "So the decision we had to make was, 'OK, do we want to wait around for three or more months until we can open, and then we start with zero members, or do we want to view this as a sort of investment period … when it's not very profitable?'"
"At the end of the day, the question I asked myself is, 'Do I want to coach right now? Yes or no?' Yes! It was of course, 'Yes!'" he continued.
So Vanhoutte started offering classes outside in the carport behind the building, each class with only three socially distanced athletes to meet Belgium's stringent COVID protocols.
"There are only three spots a class, so they fill up very quickly," Vanhoutte said. People can come "three times a week at maximum, but for most people that's fine, because for most people here, they're still new to CrossFit."
Vanhoutte found he had to add more and more classes to meet the growing demand. Then he had to add more coaches to support the increased class load.
By the end of February, Vanhoutte and Poulet had expanded their team to six coaches so they could offer 48 classes per week to the 97 athletes on their roster.
"We are capping at 100 people," Vanhoutte said, noting that once the restrictions in Belgium ease, they will increase the cap.
Vanhoutte attributes Endgame's success to several factors.
"We're doing something that not a lot of other people are doing right now," he said. "I wouldn't say we were the only gym in Belgium or the only box in Belgium but we were definitely one of the only ones that were actually giving workouts outside."
That reticence from other gyms may make sense when you consider the harsh realities of a Belgian winter. If you're unfamiliar, read how a 96-year-old veteran recalls his experience of the cold during the Battle of the Bulge (In short, "It was the worst place you could be … It snowed, and it got cold. And I mean cold.")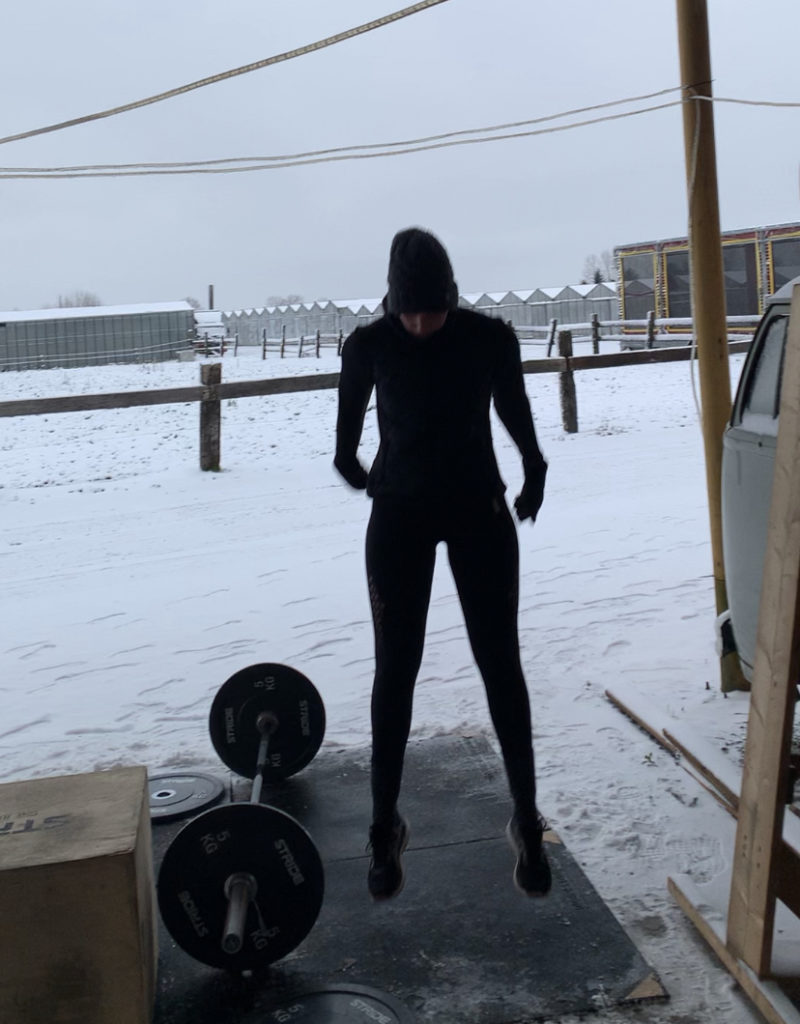 Because of the conditions, Vanhoutte said, "It's crazy to me how happy they are to be here, how little they are complaining."
Belgium had "a very cold week a couple weeks back," Vanhoutte reported. "And they just wanted to come."
He had to change the programming to keep his athletes from running over icy patches or flinging kettlebells with their gloved hands, but he kept the classes going.
"It happens quite often that I get a little emotional about it, because I know why I'm doing it, but it's kind of a shock to me that 100 — almost 100 people have decided, 'OK, this is also what I want to do right now.'"
Part of the draw, it turns out, comes from the very conditions that challenged Vanhoutte to get creative with his class offerings in the first place.
"People are having a lot of fun," Vanhoutte said. "People tell me, 'OK, while I'm doing the work and I'm really deep into the workout, I'm not thinking about COVID for awhile, so that really means a lot to us.'"
In addition to the brief respite from pandemic exhaustion, Endgame's athletes are also gaining self-confidence.
"A lot of the people, of course, had never heard of CrossFit and have never done CrossFit," Vanhoutte said.
"Most people haven't exercised seriously in 10 years or since high school," he continued. "We have a lot of students, and then we do have some pensioners, some scrappy pensioners."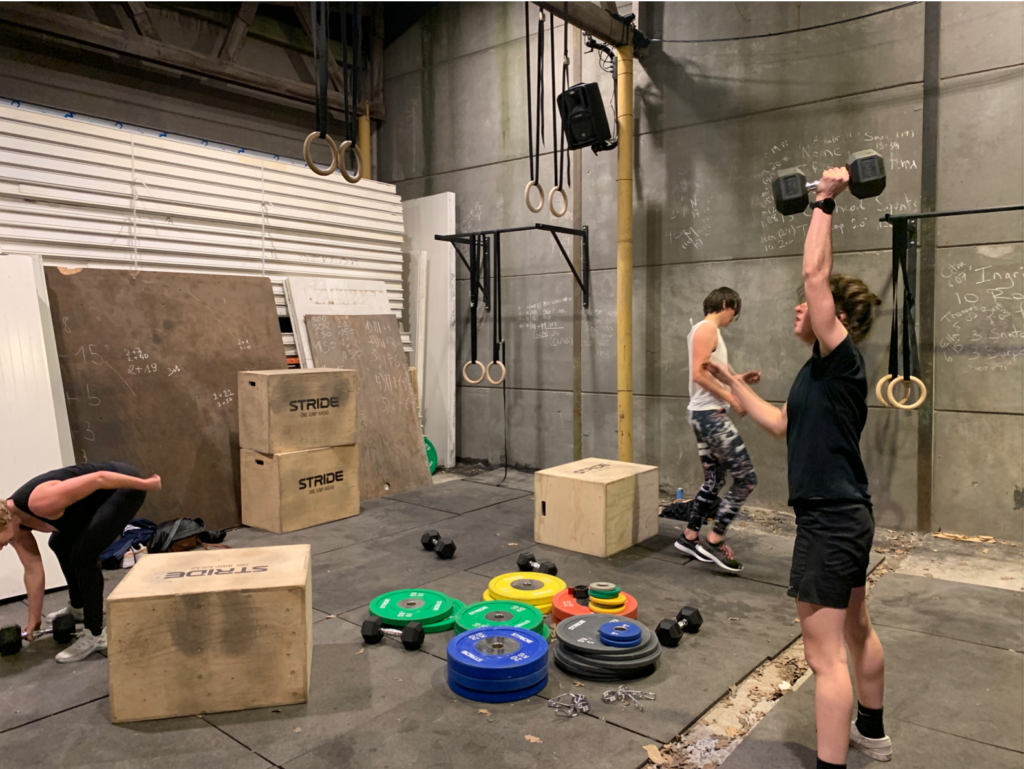 Among his clients, he's noticed many who "thought of themselves as having a couple of pounds too much," he said. "And it really affected their self-confidence, and now I can see them flourishing to people, just loving to be here and laughing a lot."
These are the transformations that make coaching so rewarding for Vanhoutte, motivating him to keep going even though his current business model means he hasn't had a free evening in over three months.
The appreciation of the members also helps. When Endgame added pull-up bars to its outdoor setup a few months back, "the reactions were priceless," Vanhoutte said. "You should have seen the people when they came out."
"I love getting people that first pull-up … because I love the look on their faces when they do. At that moment, I feel like we are going beyond exercise, and I feel like we are going beyond that pull-up and I can almost imagine … that they're thinking, 'OK, I have done this. I have worked out for this. If I can do this, I can also quit that job that I hate or get out of that relationship that's abusive,' or stuff like that, you know? So that's what this is about for me."
Ultimately, what Vanhoutte and his community at Endgame have tapped into is that raw energy that fueled CrossFit's growth in the first place: people finding the motivation to do as much as they can with whatever they can find, sometimes with very little. The humble but fiery energy of the garage gym continues in small clusters of cold athletes watching their breath crystallize in the air as they listen to a dedicated coach telling them about the Workout of the Day in East Flanders.
"They don't care what they have to do. They're just going to do it," Vanhoutte said of his athletes. "I think a lot of people want to really be part of our story. I'm not sure what the English word is for it," he said, pausing before coming to it: "Resilience!"
All photos courtesy of Jasper Vanhoutte and CrossFit Endgame.
Comments on Endgame's Beginnings: A Lesson in Resilience