Louisiana Affiliate Feeds, Shelters Lineworkers After Ida
2
Utility-line work is a tough gig.
Lineworkers spend hours outdoors in all elements installing and repairing overhead and underground electrical systems, usually at great heights and/or in cramped quarters.
It's brutal, physical work — digging, lifting, climbing — that also demands extreme precision. The slightest mishap on a high-voltage power line can be deadly; there's a reason it's been called one of the most dangerous jobs in America.
But that's just a Tuesday.
Toss in the aftermath of a Category 4 hurricane — downed trees, flooding, live wires tangled like a lethal knot of Christmas lights — and you've got a life-threatening work environment.
So lineworkers should, at the very least, have somewhere nice to sleep at the end of the day, right?
That hasn't been the case for hundreds of workers laboring to restore power across Louisiana after Hurricane Ida devastated the state, leaving millions without power for weeks.
Images circulated on social media showed lineworkers sleeping in their cars or on the ground in parking lots. In Covington, where hundreds of utility workers were sent from states as far north as Connecticut, the lucky ones could drive two or three hours to a motel "covered in bed bugs," said Shane Venezia, owner of CrossFit No Surrender, an affiliate of more than a decade.
"And I won't even tell you some of the other stuff that their rooms were covered in," the 44-year-old added.
While Venezia's own home was hit hard by the storm — had his young daughter been sleeping in her bed the night a 6-by-2-foot tree splintered the ceiling, he "probably would be planning a funeral" — the gym suffered no damage.
So when Venezia got word that the very people toiling in the heat and humidity were sleeping in the local Walmart parking lot, he decided to do something about it, spending a day driving around town inviting workers to eat, shower, and sleep at his gym.
Word spread fast. That night, around 100 lineworkers turned up to turn in at CrossFit No Surrender. They slept in the air-conditioned gym on air mattresses spread across the workout floor and hammocks suspended from the pull-up rig.
After, one of them told Venezia it was "the best sleep they'd had in over a week," he recalled.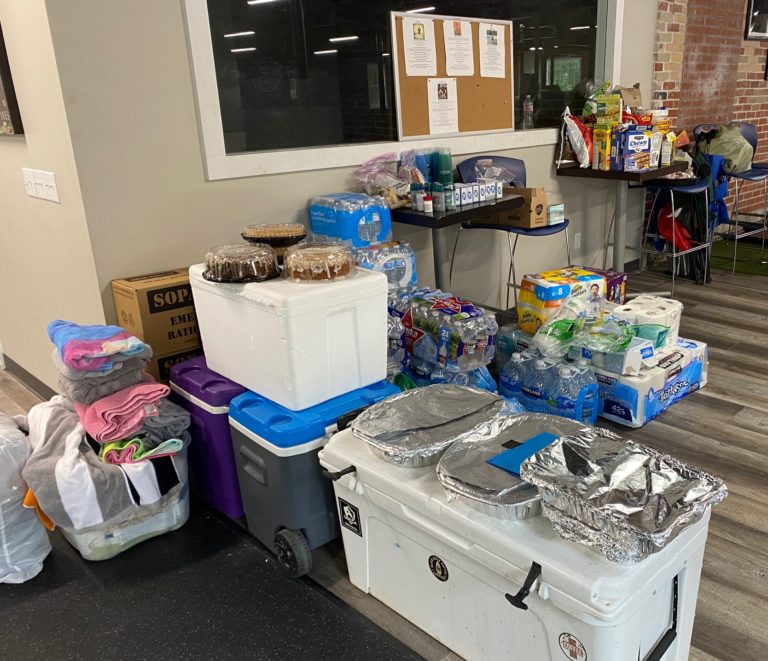 So how does a CrossFit gym turn into a hub for humanitarian aid? With the help of a village.
The members of CrossFit No Surrender were quick to offer assistance, donating inflatable mattresses, home-cooked meals, toiletries, and other supplies. One former member purchased 200 meals from a local Mexican restaurant to be delivered to the gym.
Venezia estimated at least half of the gym's 100-plus members have volunteered their time at some point since the hurricane hit, cooking in shifts on the gym barbecue, filling coolers with ice, cleaning the bathrooms, and even doing laundry.
"In the morning when (the lineworkers) leave, they just leave all the dirty towels and all their dirty clothes in baskets, and then gym members and people in the community come pick it up," he said.
Kourtney Leto, a three-year CrossFit No Surrender member who spent the first week of September washing the lineworkers' clothes, expected no less.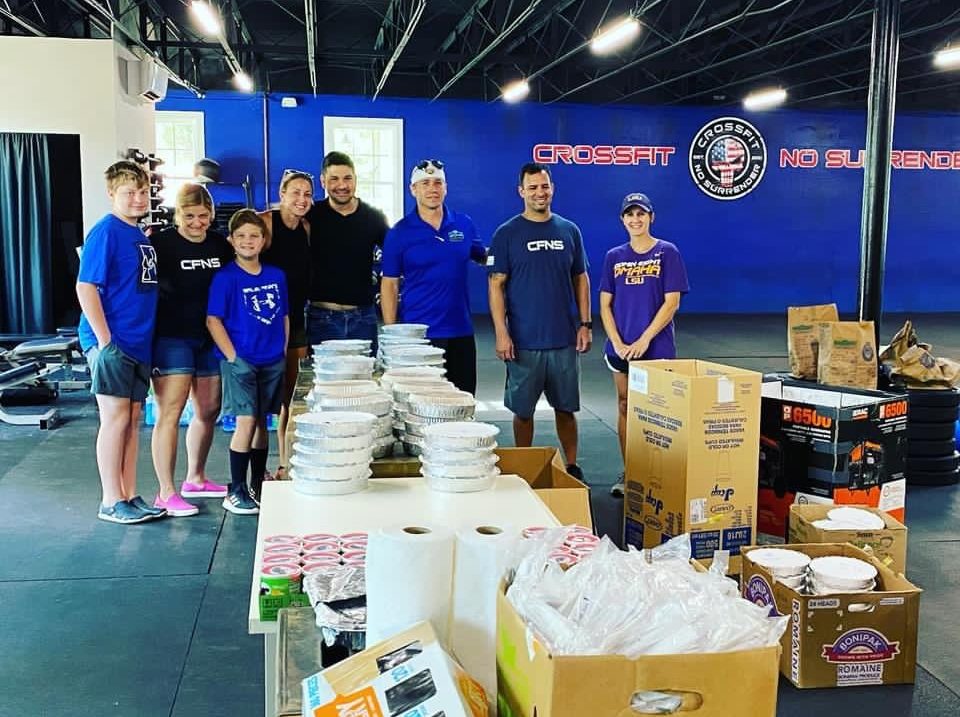 "It's not surprising one bit, not with this crew," said Leto, 40.
The service to the lineworkers is only the latest in the gym's good-deed rap sheet, which includes multiple charity fundraisers and a massive blood drive.
"It's just what we do," Leto continued. "It's like, 'OK, where do we meet? What are we doing? How are we doing it?' And then (we) make it happen."
As of the time of this writing, CrossFit No Surrender was still housing around 50 linemen per night. Every night, volunteers clear the workout floor to make room for the beds, which are then stored against the walls before the first morning class. To accommodate the workers and give them more time to rest, Venezia reduced the gym's daily class load from seven to three classes per day.
But he has no regrets.
"It's just the right thing to do," Venezia said. "CrossFit in itself is just a community event. … It's like this big family, and everybody wants to take care of everybody. … It just spilled into the actual community."
Photos courtesy of CrossFit No Surrender.
Comments on Louisiana Affiliate Feeds, Shelters Lineworkers After Ida