The first workout of the first Open in October is now complete. On the heels of the 2019 Open that ended in March, some athletes struggled to forgo their yearly hibernation rituals and come out for a second Open. After nine years of February Opens, it may take some time to adjust to the timing of the new season.
Workout 20.1 featured a 10-round couplet of ground-to-overheads and bar-facing burpees. The workout was for time but included a challenging 15-minute time cap. For time-capped athletes, this was similar to 19.1, which was a 15-minute AMRAP of wall balls and rowing for calories. Also like 19.1, the weight on the bar in 20.1 (95/65 lb.) was not a big limitation for most athletes. Having the choice to power clean and jerk the weight if needed allowed even more athletes to attack the workout as prescribed.
Participation by Country
CrossFit was founded in the U.S., and its early growth predominantly took place there. In recent years, CrossFit has seen explosive growth internationally. With 53% of participants living outside the U.S., the 2020 Open marks the first time international participants outnumbered their U.S.-based counterparts. The U.K., Australia, France, and Canada round out the top five by participation, with France jumping up two spots from 2019.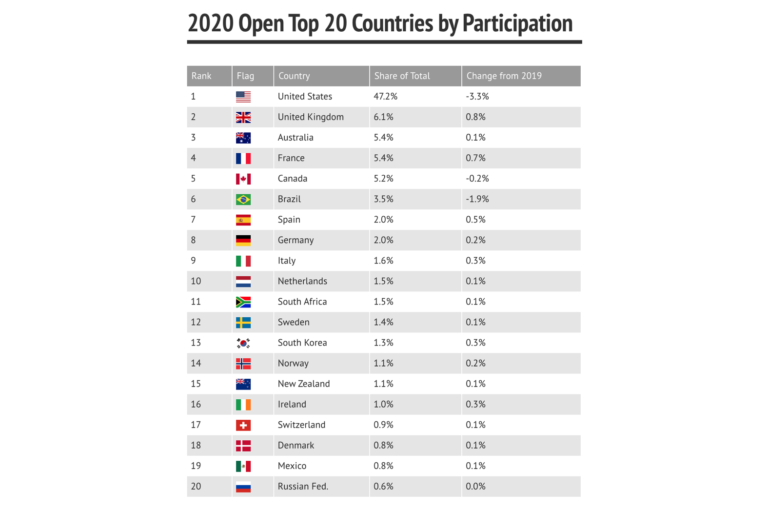 There are many ways to compare performance on a workout across countries, and all of these methods have benefits and limitations. Larger countries generally have a higher number of top performers in absolute numbers, but that doesn't necessarily mean the country is more competitive when you look at relative performance based on size.
On 20.1, competitors aged 16-54 were prescribed the same workout. Below, we can see what percentage of participants finished the workout and what percentage chose to perform the scaled version. This can give us some insight into how competitive a given country is compared to another. The table below is ordered by participation so that factor can also be taken into account.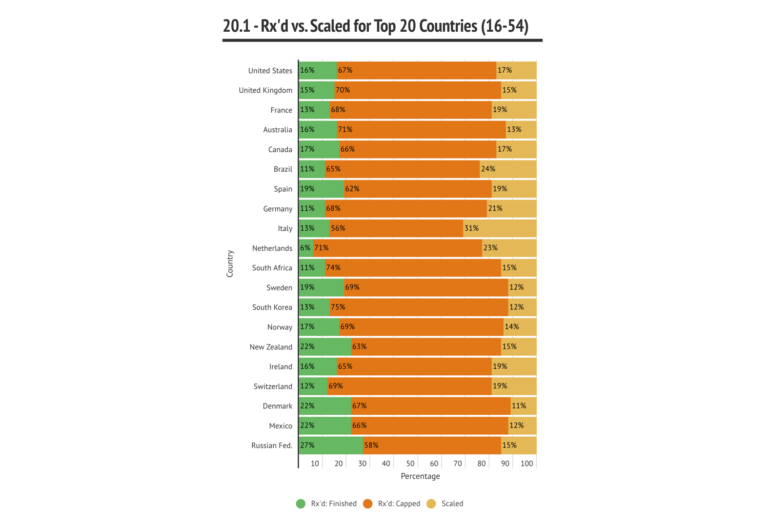 20.1 Workout Analysis
The biggest challenge in 20.1 was finishing it. The barbell was light enough for most athletes to move pretty well, but holding a 1:30 pace for 10 rounds is no easy task. Many athletes finished round 1 in around 1:00 (or less) and found themselves regretting it a few rounds later.
For the men (18-34), 24% were able to finish the workout as prescribed within the time cap. For the women (18-34), 15% were able to finish. Unsurprisingly, the younger teens (with a lighter prescribed weight of 65/45 lb.) were able to finish at twice the rate of the older teens, who used the same weight as the adults.
Scaled by Division
Since there were no roadblocks in the workout, we see a nice smooth distribution. Most athletes were time-capped working on their 8th or 9th round. And the difference between 8 full rounds (144 reps) and 9 full rounds (162) wasn't much in terms of the pace you had to hold. To finish 8 rounds you would need to hold an average pace of 1:52 per round, compared to 1:40 per round if you wanted to finish 9.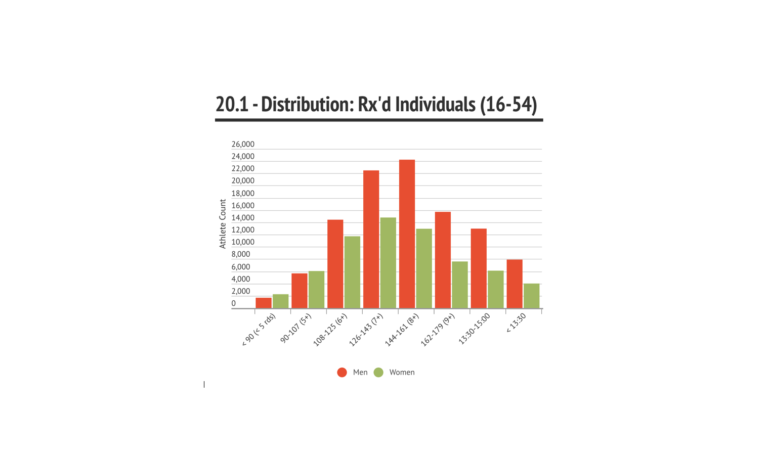 Below is a percentile table with details for all divisions. You can see the breakdown of how many reps or what time it took to achieve a particular percentile. For example, for Rx'd Women (18-34), you needed a score of 167 reps to get into the 75th percentile. You can see the percentage of athletes who did the scaled version in each division as well, and the percentiles comparing scaled athletes against one another.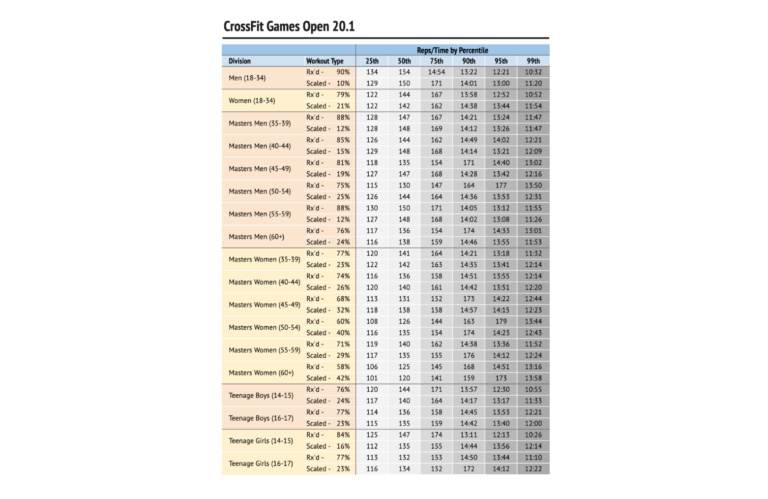 *The data used for this article is generated from the official CrossFit Open submissions.
---
CrossFit btwb is the official CrossFit® workout-tracking app. Log, plan, and analyze your WODs with friends at your CrossFit® box and around the world. All plans come with a 30-day free trial.