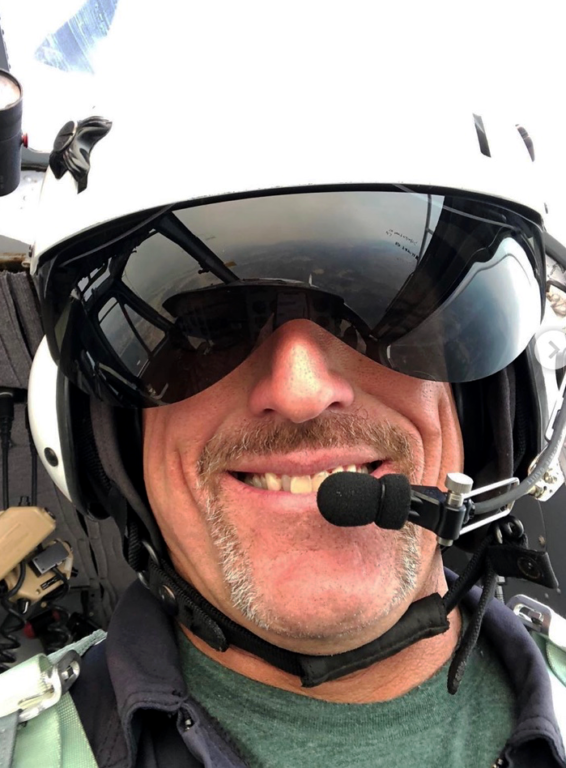 On Wednesday, Aug. 19, Mike Fournier, 52, died tragically in a helicopter crash while fighting the Hills Fire near Coalinga, California. Fournier was the only person aboard the Bell UH-1H aircraft, which crashed during a water-dropping mission. The cause of the crash is unknown at this time.
A former pilot for a news station in San Diego, Fournier later flew for SoCal Edison and more recently began contracting with Cal Fire to fight the wildfires in California.
Fournier was a CrossFit Level 2 Trainer. He began coaching at Cyn Gym CrossFit in 2011. In his biography on the Cyn Gym website, Fournier writes:
In my lifetime I have raced bikes, participated in team sports, competed in Marathons, Triathlons, and I am a two time Ironman Finisher. I have coached High School Football for ten years; I love to rock climb, snow ski, and wakeboard. Looking back the list is long, but CrossFit and becoming a CrossFit instructor has been not only life changing, but is by far some of the most challenging and gratifying athletic accomplishments in my life. I am so fortunate not only to meet new people but have the opportunity to help them change their lives.
Fournier's friend Brandon Karmann writes, "Mike touched so many lives and truly embodied the CrossFit mantra and values. Many people have joined CrossFit because of Mike."
Joseph Collins, one of the athletes Fournier coached, writes, "He was quick with a smile, [fist] bump, and encouraging word. His giant, sweaty bear hugs at the end of every workout were the best. You could feel how much he loved life and people in each and every one of his hugs. He was by far the nicest and kindest person I have ever met."
Fournier had competed in the CrossFit Open every year since 2012. His skills in the Sport of Fitness earned him a ticket to the Masters Men 45-49 competition at the CrossFit Games in 2013. There, Fournier had five top-10 event placements, one event win, and a third-place podium finish.
Fournier is survived by his wife, LeAnne, and two daughters, Riley, 16, and Mikena, 20. His family enjoyed cheering for him from the sidelines at the CrossFit Games and can be seen celebrating with him following his win in the Pullgatory event in 2013.
Pullgatory will now be renamed Fournier in his honor.
Fournier
For time:
50 shoulder-to-overheads
50-ft. arm-over-arm sled pull
40 burpees
50-ft. arm-over-arm sled pull
30 sumo deadlift high pulls
50-ft. arm-over-arm sled pull
♀ 75-lb. STO, 55-lb. SDHP
♂ 115-lb. STO, 85-lb. SDHP
For the sled pull, use a load that is challenging but doesn't require extended rest periods
If you'd like to support his family during this difficult time, please visit their GoFundMe site.
Fournier at the 2013 CrossFit Games
Comments on Remembering Mike Fournier
4 Comments
Comment thread URL copied!