By
Gary Taubes
January 31, 2020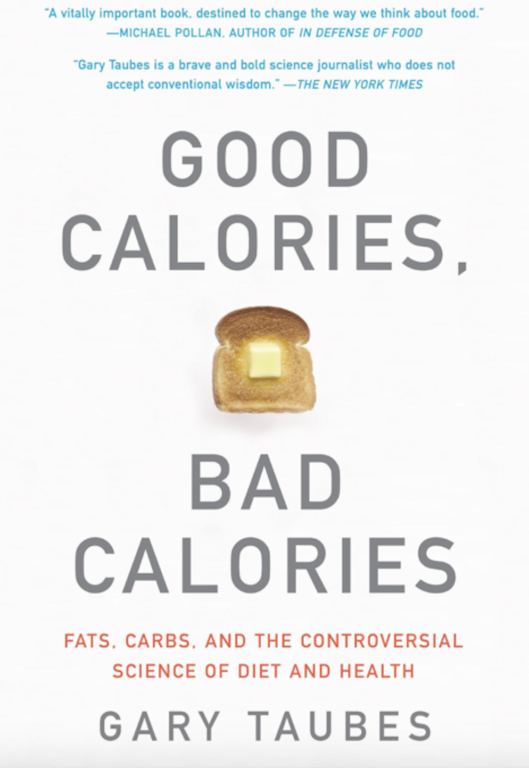 Read Good Calories, Bad Calories, by investigative science and health journalist Gary Taubes.
From the publisher (Knopf, 2007):
In this groundbreaking book, the result of seven years of research in every science connected with the impact of nutrition on health, award-winning science writer Gary Taubes shows us that almost everything we believe about the nature of a healthy diet is wrong.
For decades we have been taught that fat is bad for us, carbohydrates better, and that the key to a healthy weight is eating less and exercising more. Yet with more and more people acting on this advice, we have seen unprecedented epidemics of obesity and diabetes. Taubes argues persuasively that the problem lies in refined carbohydrates (white flour, sugar, easily digested starches) and sugars — via their dramatic and longterm effects on insulin, the hormone that regulates fat accumulation — and that the key to good health is the kind of calories we take in, not the number. There are good calories, and bad ones. …
With precise references to the most significant existing clinical studies, he convinces us that there is no compelling scientific evidence demonstrating that saturated fat and cholesterol cause heart disease, that salt causes high blood pressure, and that fiber is a necessary part of a healthy diet. Based on the evidence that does exist, he leads us to conclude that the only healthy way to lose weight and remain lean is to eat fewer carbohydrates or to change the type of the carbohydrates we do eat, and, for some of us, perhaps to eat virtually none at all.
The 11 Critical Conclusions of Good Calories, Bad Calories:
1. Dietary fat, whether saturated or not, does not cause heart disease.
2. Carbohydrates do, because of their effect on the hormone insulin. The more easily-digestible and refined the carbohydrates and the more fructose they contain, the greater the effect on our health, weight, and well-being.
3. Sugars—sucrose (table sugar) and high fructose corn syrup specifically—are particularly harmful. The glucose in these sugars raises insulin levels; the fructose they contain overloads the liver.
4. Refined carbohydrates, starches, and sugars are also the most likely dietary causes of cancer, Alzheimer's Disease, and the other common chronic diseases of modern times.
5. Obesity is a disorder of excess fat accumulation, not overeating and not sedentary behavior.
6. Consuming excess calories does not cause us to grow fatter any more than it causes a child to grow taller.
7. Exercise does not make us lose excess fat; it makes us hungry.
8. We get fat because of an imbalance — a disequilibrium — in the hormonal regulation of fat tissue and fat metabolism. More fat is stored in the fat tissue than is mobilized and used for fuel. We become leaner when the hormonal regulation of the fat tissue reverses this imbalance.
9. Insulin is the primary regulator of fat storage. When insulin levels are elevated, we stockpile calories as fat. When insulin levels fall, we release fat from our fat tissue and burn it for fuel.
10. By stimulating insulin secretion, carbohydrates make us fat and ultimately cause obesity. By driving fat accumulation, carbohydrates also increase hunger and decrease the amount of energy we expend in metabolism and physical activity.
11. The fewer carbohydrates we eat, the leaner we will be.
Good Calories, Bad Calories is a tour de force of scientific investigation — certain to redefine the ongoing debate about the foods we eat and their effects on our health.
Post thoughts to comments.
Join us next month for a discussion of Tripping Over the Truth, by Travis Christofferson.
Comments on Good Calories, Bad Calories: Fats, Carbs, and the Controversial Science of Diet and Health
Comments
Comment thread URL copied!