Physical fitness and health may be the driving force when someone steps into a CrossFit affiliate for the first time, but it's never long before the less tangible benefits of joining the community become apparent. For all the abs and biceps, the endurance capacity and strength, there are just as many mental-health benefits that can be developed and maintained inside the box.
The fact that physical health begets mental health, though widely known, is often relegated to the footnotes in stories about fitness. Lesser known by the masses is that group exercise promotes physical wellness but encourages an even bigger mental boost.
A study from Mental Health and Physical Activity compared solo exercise with group exercise and analyzed the mental-health benefits of each. The results showed group exercise led to greater improvements in mental health, and the study noted participants' feelings of connectedness to the community around them led to further benefits to overall well-being. Sound familiar? If you've ever been inside a CrossFit affiliate, you'll recognize that the community is unrivaled and a large factor in the mental benefits that can be derived from sticking to a CrossFit program.
Mental Health Is About More Than the Mind
Natalie Bodart is a holistic psychologist and founder of The Bodart Practice in London, England, where she treats clients using pathways that involve talk therapy, breath work, and physical movement.
"The whole ethos of (The Bodart Practice) was this idea that mental health is about more than the mind," Bodart said. "We are a team of psychologists, but we're also a team of holistic practitioners."
Bodart is also a CrossFit athlete and a mom of two. A longtime member of CrossFit Tooting, also in London, Bodart pinpoints her time in the affiliate as her own primary form of stress relief.
"After I had my second baby … I was (pushing) my buggy, walking along doing the many laps of my local neighborhood, and then I spotted that the CrossFit gym had popped up," Bodart said. "So I poked my head in and chatted, and I started the postnatal program. … I just love the sense of it being a community. … I've made friends and I've been there for years now."
As a busy mom, an athlete, and a psychologist who runs her own practice, Bodart understands that the mind-body connection is crucial to mental wellness. Neglecting to account for things such as diet, rest, community, and movement leads to missed opportunities in the search for optimal mental health. Engaging in daily movement and sound nutrition habits, Bodart said, increases blood flow and supports neurons in the brain, improves concentration, battles depression and fatigue, improves sleep, boosts confidence, and combats inflammation. Bonus points if you do it in a community setting like what you find at a CrossFit affiliate.
"We are social beings and rely on others to survive and thrive. … At CrossFit, we can come from all walks of life — different ages, backgrounds, identities, occupations — and have a shared interest and passion there," Bodart said. "It's a place where we support and encourage each other and celebrate at the end."
The Importance of Taking Regular Inventory of Habits and Health
Despite the positive reinforcement athletes can find for healthy behaviors in the box, no one is completely immune to mental health struggles. Taking regular inventory of your mental and physical health can help.
Danielle Ren'e Gaskell, coach and owner of CrossFit Tooting, recalled a time when she experienced her own challenges. While she was opening her affiliate, her own fitness became a lower priority.
"Physically, I found a downward spiral in sleep quality. I had increased anxiety, overall lower mood, I was less productive, … my body changed, I felt my usual injuries and niggles, I found the labor part of setting up the gym harder, and I had less energy," she said.
Changes to her body composition due to poor food choices also led to poorer mental health during this time.
"Aesthetic changes to my body changed my mindset toward myself, my own self care, and how I saw my self-worth," she said.
Since then, Gaskell has learned that to be the best version of herself, she has to prioritize her own movement and nutrition regimens, which keeps her mental health from deteriorating.
While ups and downs are normal, Bodart encourages regular check-ins to make sure you're not heading in the wrong direction for the long term with your health. Don't wait for a mental health diagnosis to make a positive change, Bodart says. Instead, she recommends simply looking at your day-to-day life to make sure positive habits are being established.
Bodart's approach to mental health takes social, physical, and mental factors into consideration.
"It's about our entire lifestyle," she said.
And for Bodart, the CrossFit lifestyle has been most conducive to and supportive of her own mental health. Because of her profession and immersion in the field, she bears a daily emotional burden while supporting others in their health struggles.
"Obviously, I'm carrying quite a lot of emotional load because of the work I do. … (CrossFit) is a stress reliever," she said. "It's the right type of exercise for me, and it's also so nice to see people who know me, and I know them and we have a chat — non-psychology related."
Like Bodart, Gaskell said her job comes with a substantial mental and emotional load as she navigates strong personalities, energies, opinions, and perceptions across multiple classes throughout the day.
"Coaching and owning an affiliate can be very tiring, and you are taking on a lot of different energy. … We've got a massive slogan on our wall that says, 'The best hour of your day.' And sometimes, I don't have a very good day," Gaskell said. "But when I'm coaching or when I step into that gym, that mural reminds me that although I'm not having the best day, my job is to give the best hour of the day to somebody who's in front of me."
She said the perspective shift is twofold.
"By me giving that act of kindness to someone else, it actually makes me feel better," Gaskell said. "I don't know what other job I would be doing that would be so fulfilling yet so tiring at the same time."
While Bodart doesn't necessarily prescribe CrossFit to all her clients, physical movement and finding community are prevalent components of her treatment plans. The community part is key, as loneliness has a big impact on physical and mental health by creating stress in the body, Bodart said.
"The pandemic amplified loneliness, and places like CrossFit (are) a lifeline," Bodart said. "Even now, where we spend more time working at home alone, it's important that we have moments in our days and weeks to feel connected to others, have fun, light chats, and to laugh. … I think it can positively impact self-confidence, inner strength, and assertiveness."
As a coach, Gaskell has seen the benefits of CrossFit firsthand in her members, witnessing them build resilience and adaptability by showing up and sitting in the discomfort of a tough workout on a daily basis. In parallel, Bodart said the goal of talk therapy is often to build those same qualities.
"That is mostly what I do all day in therapy — let's talk about that thing that you really don't want to talk about but you're here to talk to me about. It's not easy to confront difficult emotions. It's not easy to confront difficult experiences," Bodart said. "From a psychological point of view, there's something about what it feels like to tolerate the discomfort and then just experiment with what happens next."
---
About the Author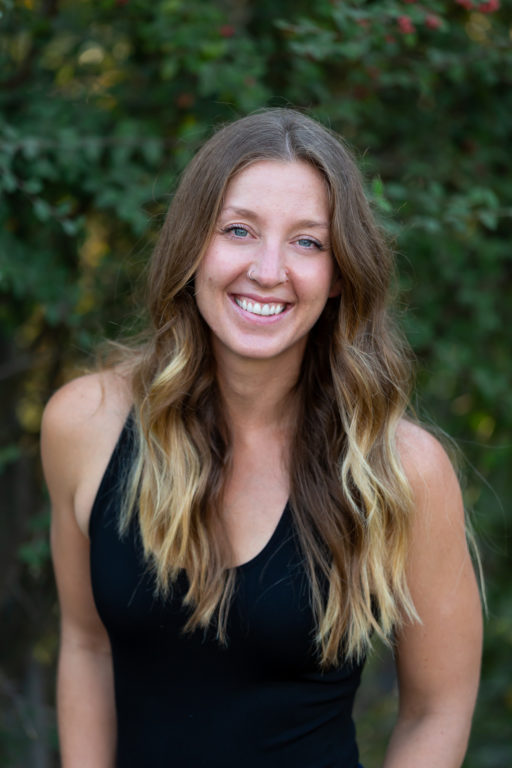 Nicole Peyton is a content writer and copy editor in the publishing department of CrossFit, LLC. Nicole began working for CrossFit after earning her bachelor's degree in media and communications from California State University of Monterey Bay in 2012, just a few months after finding a new love for CrossFit as her fitness regimen. Nicole resides in Santa Cruz, California, with her two children, Isla and Ellis. She is passionate about health, family, and storytelling, and enjoys spending time in nature with her family.