Hope for Refugees
CrossFit and Doctors Without Borders Join Forces To Support Global Humanitarian Health Efforts
CrossFit & MSF

MSF is an international non-governmental nonprofit focused on providing "independent, impartial medical humanitarian assistance to the people who need it most." The organization "cares for people affected by conflict, disease, outbreaks, natural and human-made disasters, and exclusion from health care in more than 70 countries," according to its website.
MSF has worked in Brazil to provide medical care to Brazilian people in need as well as Venezuelan migrants and asylum seekers in the country. It has helped with earthquake recovery efforts in Chile, constructed hospitals in Bangladesh, provided medical care for migrants and refugees in the central Mediterranean, and is currently leading a medical humanitarian response in Kyiv, Lviv, and several other Ukrainian cities. The organization is also working to support Ukrainian refugees in nearby countries such as Poland, Moldova, Hungary, and Slovakia.
"We are stepping up our response, providing medical care to people who have been caught up in, or have been forced to flee, the fighting. Our teams are donating emergency supplies to hospitals and providing vital training to their staff. … We are scaling up our medical and humanitarian response in various parts of the country, based on where our assistance is needed and will have a significant impact," MSF wrote on its landing page for Ukraine initiatives.
CrossFit is working with MSF to support its care for refugees around the world. The alliance is driven by the two organizations' shared commitment to health, service, and the members of the first responder community who are on the front lines helping fellow human-beings in crisis.
CrossFit's core values include finding meaning in service and building communities united by a recognition of our common humanity. According to GM of GYM Gary Gaines, "We're very fortunate to be able to partner with Doctors Without Borders, an organization that embodies similar values to CrossFit. Our community of gym owners and members is one of the strongest in the world, and it's times like these when we can show what we're capable of. The current humanitarian crisis in Ukraine requires action, and we are honored to be able to assist the Ukrainian people, along with other communities in need, through this partnership."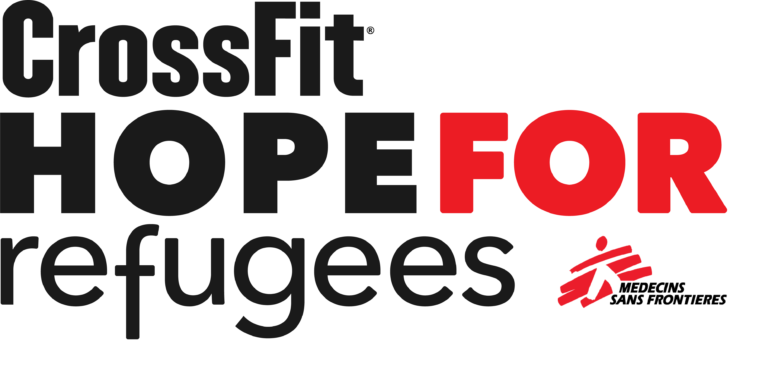 The Workout
3 rounds of:
Shuttle runs, 8 m
Dumbbell snatches
Bike for calories
Dumbbell box step-ups
Strict burpees
This workout has the same format as Fight Gone Bad, working at each station for one minute then rotating. After completing all 5 stations, rest for 1 minute before starting the next round. One point is given for each rep, calorie biked, or shuttle run length.
♀ 35-lb DB, 20-in box
♂ 50-lb DB, 24-in box
Use a single dumbbell for the snatches and step-ups. For the strict burpee perform an honest push-up followed by an enthusiastic vertical jump.
---
CrossFit will post the workout and fundraiser on CrossFit.com on May 7 and will match community donations up to US$50,000.
Please consider hosting the workout at your gym, sharing with others in your community, and making a donation today.