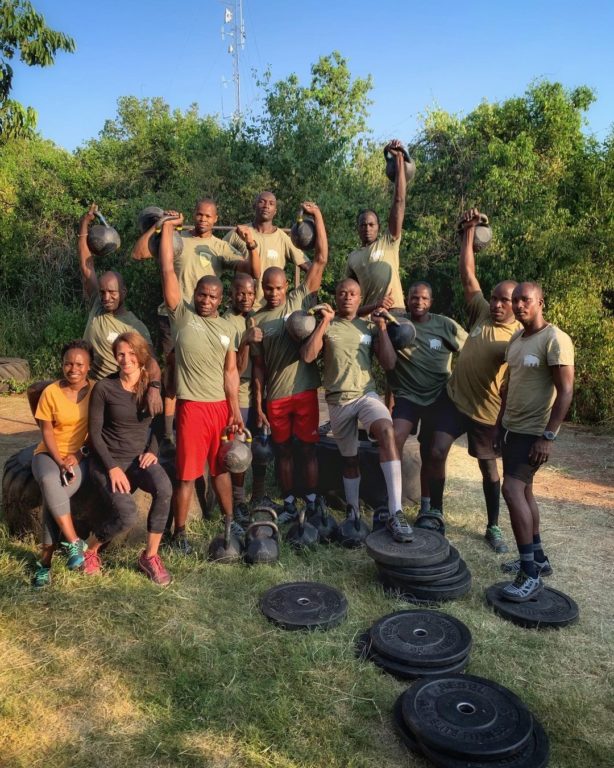 "When I was made responsible for the anti-poaching unit, I wanted to adopt CrossFit," said Wes Gold, the Head of Law Enforcement and Anti-Poaching for the Grumeti Fund in the Serengeti in Tanzania, East Africa. "The guys that I work with, my game scouts, are naturally gifted runners, but their upper-body strength was lacking in some respects," he continued.
Gold's audio cut in and out as he described his team, probably because he was flying a bush plane over the Grumeti Game Reserve, communicating with ground control as he navigated to his remote destination.
While midflight, Gold shared the story of CrossFit Faru, a story that brings CrossFit's training lesson about mechanics, consistency, and intensity into a new context: building a successful CrossFit affiliate.
CrossFit and Anti-Poaching: Mechanics
Wes Gold, a 10-year CrossFit athlete, joined the Grumeti Fund, "a non-profit organization carrying out wildlife conservation and community development work in the western corridor of the Serengeti ecosystem in Tanzania," in April of 2016. By the time Gold arrived in the region, poaching had become a major problem as organized groups sought out animals not for food or survival but to trade in highly prized ivory and rhinoceros horn.
Once on the ground, Gold knew he wanted to use CrossFit training to help improve the anti-poaching team's general physical preparedness, but raising money and finding ways to acquire or make the necessary equipment slowed things down.
"I had to spend my first year and a bit trying to source equipment as cheaply as I could," Gold said.
By September of 2017, the team had "six barbells and a couple of kettlebells," Gold remembered, and onsite carpenters built plyo boxes to add to the arsenal.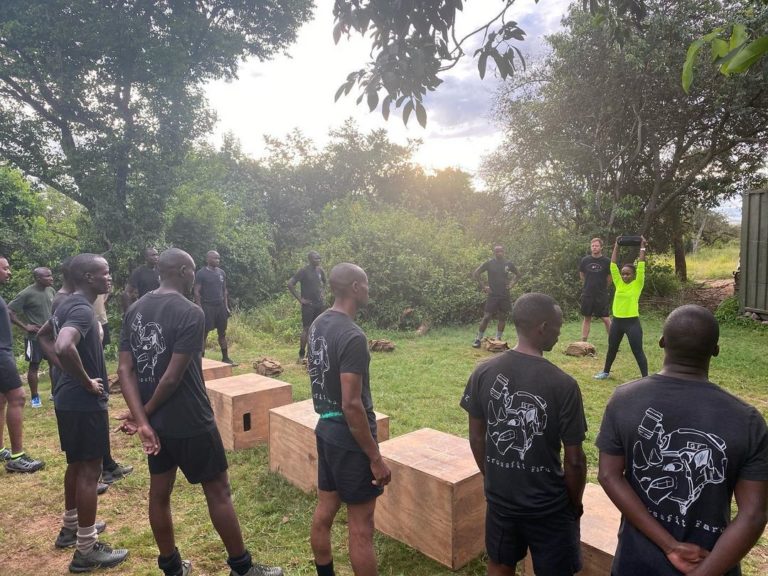 In terms of programming, the team followed the WOD on CrossFit.com or Gold would grab a workout from social media for the 6:30 a.m. training sessions several times a week before patrols began for that day. During each workout, Gold worked with the team on the mechanics of CrossFit.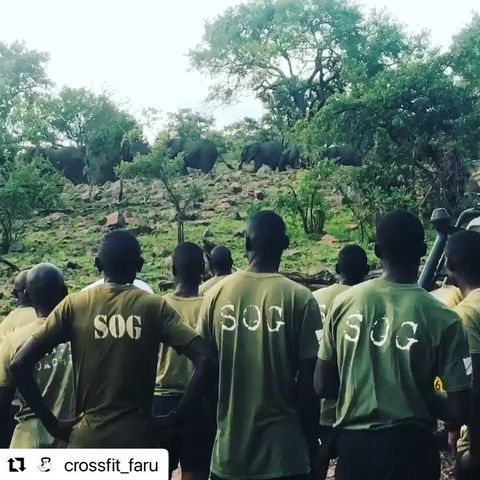 The scouts work in extreme conditions, and on a daily basis they have to be prepared to face the "unknown and unknowable," one of the core concepts of CrossFit training. At baseline this means 6-8 miles of foot patrol per day with packs weighing between 20 and 30 pounds in incredibly hot weather. They are patrolling a "big five" game reserve, so in addition to the environmental conditions, the scouts regularly encounter lions, leopards, rhinos, elephants, and buffalo. In fact, two of Gold's scouts were mauled by lions in his first year in Tanzania. But, the buffalo are the most dangerous animals, and when being charged by one, the scout has to make split-second decisions: look for a tree to climb or play dead.
"We've got no shortage of snakes, too," Gold added.
For the scouts, confronting poachers in the bush often results in unknown and unknowable situations as well. Although hunting firearms are rare in this part of the Serengeti, Gold said traditional weapons like spears, called "panga," and machetes are common.
"Then there's the bow and arrow, which (the poachers) are very good at using," he continued, "and they extract poison from certain plants that is lethal if it gets in your system."
One scout turned CrossFit athlete has been mauled by a lion, shot with a poisoned arrow, and hit over the head with a butcher's knife by a poacher — and he has survived all three. A fellow scout was with him when he was shot, broke the arrow shaft and pushed it through his arm, minimizing the effect of the poison.
"That's what these guys face on a daily basis," Gold concluded.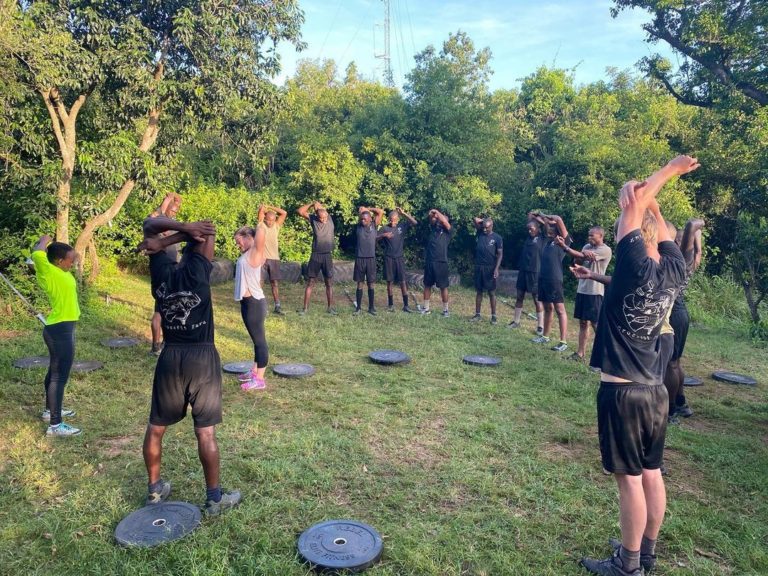 The Anti-Poaching Team Gets an Affiliate: Consistency
Kristen Chandler, currently the Communications Director for Loud & Live Sports, moved to Tanzania in 2018 and reached out to Gold after seeing a video CrossFit published that included a drone shot of the scouts working out in the jungle. Chandler traveled to the Grumeti team's base and spent a week training the scouts. More importantly, though, she spent time with Gold and Alina Peter, the Operations Room Coordinator for the anti-poaching team, "doing some training and instructing on instructing because they were the main coaches there," Chandler remembered.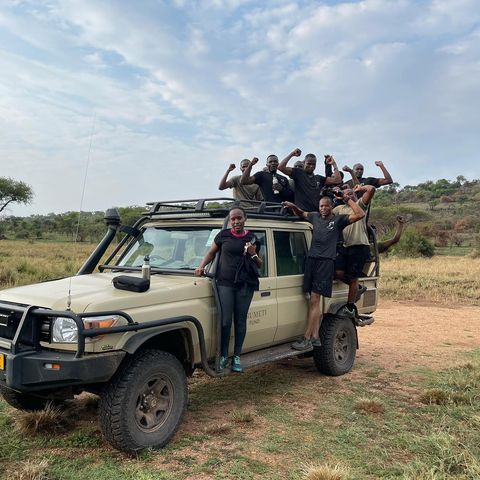 Chandler had recently completed the CrossFit Level 2 Certificate Course before arriving in Tanzania, and she had insights to share with Gold and Peter on how to structure a CrossFit class and effectively vary training.
According to Gold, "Kristen took it to the next level for us … . We went from being sort of wannabe, whatever people, Googling workouts … to being taught by someone who knew what they were doing."
In March 2019, with Chandler's help, CrossFit Faru became an official CrossFit affiliate — in Swahili, "Faru" means black rhino, one of the animals that the anti-poaching team protects. With Chandler's influence, CrossFit has donated the affiliate fee to Faru each year, with the understanding that the Grumeti Fund and the anti-poaching team are using CrossFit to conserve wildlife and the natural environment.
After helping to establish the affiliate, Chandler stayed on board and programmed for the team for a while despite not being able to be there in person long term. By teaching Gold and Peter how to run classes and vary training, Chandler helped bring consistency to the anti-poaching team.
"We're a 'not-for-profit' and so, for CrossFit to donate us an affiliate, while it might seem like a small thing, it's helping us make people fit and keep them fit, and we're extremely grateful for that. Our experience with the whole CrossFit community has been phenomenal," Gold shared.
Enter Pull the Pin Programming: Intensity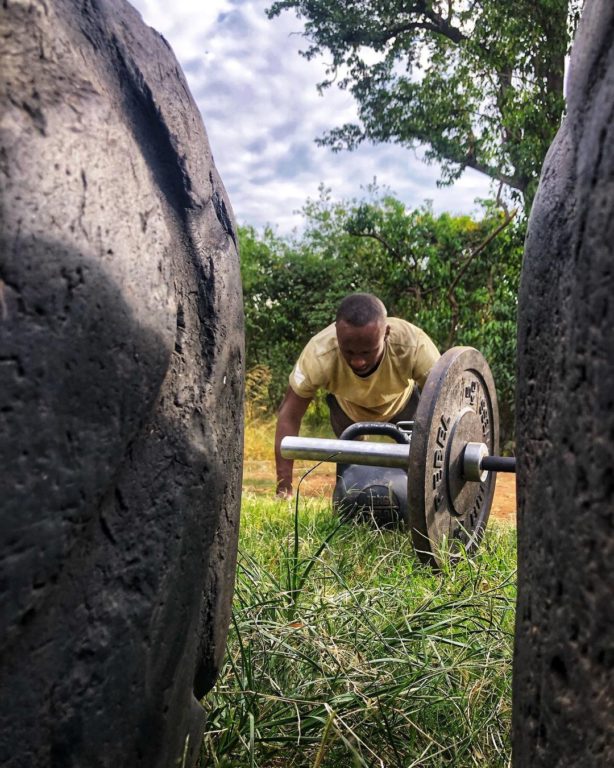 In 2021, Gold began a university degree in business administration at the University of Aberdeen in Scotland. He chose the program not only for its merits but also because CrossFit Level 3 Trainer Rob Lawson, who is also a Seminar Staff Flowmaster, owns a gym nearby, CrossFit Aberdeen. Lawson also owns an online programming service called "Pull the Pin Programming."
After meeting one another, Lawson offered to provide free programming for the anti-poaching team. The new programming kicked off at the beginning of this year and was geared toward increasing the intensity of the scouts' training.
Lawson is also currently gearing the programming for the Grumeti team toward workouts that require minimal or no equipment. He also has plans in the works to visit the team and tailor their WODs to their specific needs, which include being able to shoot and hit targets with an elevated heart rate.
"The plan is that we will implement anti-poaching-specific training that will involve other components, such as shooting," Gold said.
One of the benefits of Lawson's programming has been the coaching guidance he provides as a Level 3 CrossFit Trainer.
"What I'm trying to do is not just programming; it's also coaching development, so I try to help by including coaching progressions, which, I think, has been really useful for the team at Faru," Lawson said.
For Lawson, coach development is not the only part of this partnership that is rewarding.
"CrossFit for so long has been preaching about being protective of human health with programming and nutrition, with the goal of providing wellness," Lawson said. "With the anti-poaching team, we are making fit, well humans that can actually go out and protect the environment and protect wildlife."
Looking ahead, CrossFit Faru hopes to bring a Level 1 Certificate Course to the Serengeti to train the team on the ground and help their coaches develop new skills. As a nonprofit, it can be difficult for the Grumeti Fund to raise money for equipment and coaching education, but the team is planning a memorial WOD fundraiser later this month.
Follow CrossFit Faru on Instagram
All photos courtesy of Kristen Chandler and CrossFit Faru.